April is well into spring, and the season's comfortable weather and refreshing scenery are the perfect reasons to enjoy a day engaging in outdoor sports and activities. It is also Sports Eye Safety Month. Your trusted optometrist at Vienna Eyecare Center shares three tips to prevent sports-related eye injuries this season.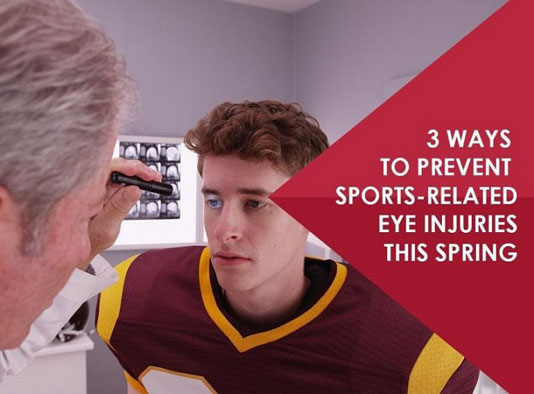 Here are the top three ways to prevent sports-related eye injuries this spring.
1. Always Wear Protective Eyewear
The American Academy of Ophthalmology has reported that up to 90% of sports-related eye injuries could have been avoided by wearing proper protective eyewear. The type of eye gear you need depends on the sports or activities you engage in, so it's best to seek advice from our expert eye doctors. Most sports optical devices have specific requirements that are usually established by the American Society for Testing and Materials or the sport's governing body itself.
2. Remember to Visit Your Eye Doctor
Before engaging in contact sports, visit your trusted eye doctor for a comprehensive spring eye exam to check for signs of any underlying eye problems. We will ask you about the type of sports or activity you'll be participating in so we can recommend the appropriate eyewear. Polycarbonate eyeglasses are generally a good investment since they can provide up to 10 times more impact resistance than any other materials. We can also add photochromic lenses for your added protection from harmful UV rays.
3. Know the Common Signs of an Eye Injury
Serious eye injuries are not always obvious, which is why it's important to know the signs. Sudden blurring of your vision or difficulty recognizing faces are some early indicators of an eye injury.
You may also experience blood clots, torn eyelids, and protruding eyes later on. Having different sized pupils is another indication. We recommend seeing your reliable eye doctor as soon as possible if you experience any of these symptoms.
For more tips on preventing sports-related eye injuries, call us at (703) 688-7003 or fill out our form. We serve Vienna, Reston, and McLean, VA.