Your vision is linked to your nervous system, so changes in one area can affect the other. If you have problems with your eye, then you might experience headaches. In this article, Vienna Eyecare Center, the top choice for new eyeglasses in our local area, discusses the link between vision and headaches.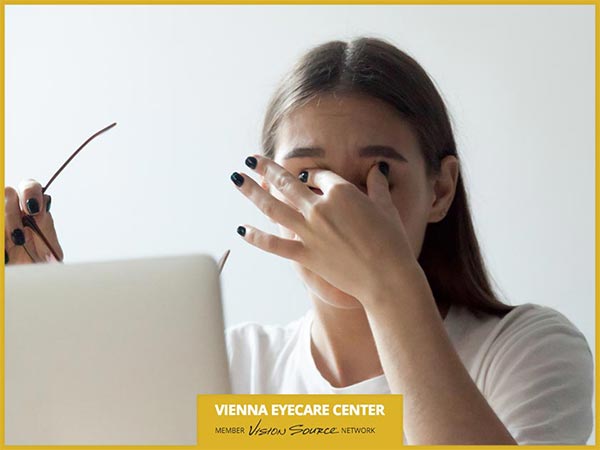 Eye Strain
Overusing the muscles involved in vision focus can cause pain in your eyes and head. Your risk of eye strain increases if you participate in activities that demand intense use of your eyes for a prolonged period of time. Eye strain can also be linked to general vision problems. We suggest blinking often and giving your eyes a break every 20 minutes if you write, read, drive or work in low-light conditions for extended periods.
Ocular Migraines
Ocular migraines are incredibly painful and can even cause vision loss in one eye. If you experience flashing lights, severe eye pain or blind spots, then you need to talk to your eye doctor as soon as possible. Ocular migraines are linked to the blood vessels and nerves at the back of the eye. Your eye doctor will most likely conduct an eye exam to determine if you have an eye condition that's linked to your headache.
Borderline Binocular Vision and Monocular Vision
Monocular vision refers to almost exclusively using only one of the eyes to see. Borderline binocular vision refers to a condition where the two eyes do not work well together because one eye is out of focus or misaligned. These conditions make activities that require depth perception more difficult and they can also cause headaches or nausea.
Our high-quality contact lenses and eyeglasses can restore your vision. We also offer comprehensive eye care services including family eye care, comprehensive eye exams and more. Vienna Eyecare Center uses cutting-edge vision diagnostic technologies to provide our patients with detailed and comprehensive vision exams. Our highly trained and experienced eye doctors can help you. We serve many areas in VA including Fairfax, Reston and Tysons Corner. Call us at (703) 938-7633 to learn more about our services and products or to request an appointment.