Contact lenses are an effective way to correct refractive errors, and they serve as a great alternative to eyeglasses. Nevertheless, some people are hesitant to try contact lenses due to concerns about them being uncomfortable.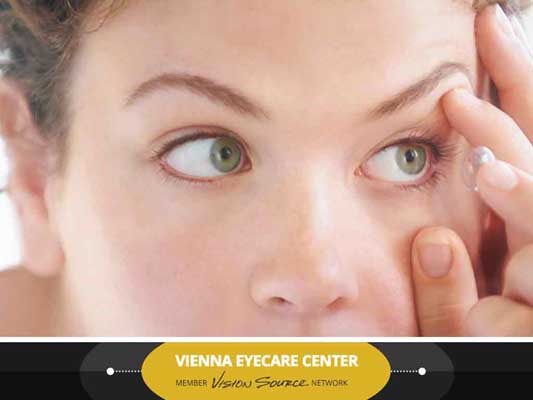 Today, your expert optometrist from Vienna Eyecare Center discusses remedies for contact lens discomfort:
Try a Different Type of Contact Lens
Your discomfort might be caused by the kind of contact lens you are wearing. Different contact lenses have varying levels of water content. Ask your eye doctor about alternatives to the contact lenses you currently use. There are soft contact lens options available for many prescriptions.
Use Artificial Tears
Your eye doctor might also recommend artificial tears to relieve the discomfort caused by occasional dryness. Before going out and buying the eye drops, though, consult your doctor. Some contact lenses may be incompatible with certain eye drop medications. Some eye drops also have a different purpose other than lubricating the eyes.
Undergo a Punctal Occlusion
In some cases, an eye doctor might suggest a punctal occlusion. This involves using an acrylic or silicone plug to block the ducts that drain tears away from your eyes. This leads to the tears remaining on the surface of the eye, so you'll be more comfortable wearing contact lenses.
Consume More Omega-3
Your tears need to have a balanced chemistry to be effective in lubricating your eyes. Eating food rich in omega-3 fatty acids, like salmon or tuna, can help with this. Omega-3 fatty acids help minimize tear evaporation and regulate the oily component in the tear film. This can reduce dryness and make wearing contact lenses more comfortable.
We can prescribe the perfect contact lenses or eyeglasses for your needs. Our vision care professionals have helped local patients since 1984. Call us at (703) 938-7633 to learn more about our services or to make an appointment. We serve Vienna, Reston, McLean and nearby areas in VA.