Welcome to Vienna Eyecare Center,
Where Our Vision is Your Vision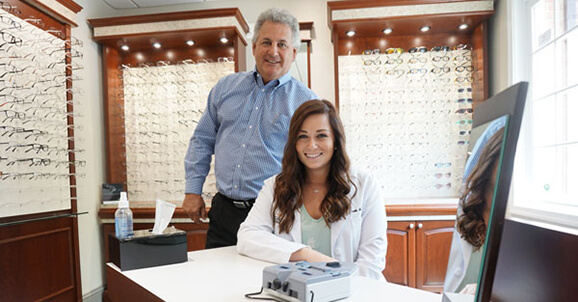 Founded in 1984, Vienna Eyecare Center was opened with a desire to provide the best eye examination services and the best eye doctors in Vienna and its surrounding communities. Today, we are fulfilling that desire through patient education, state-of-the-art technology, and the highest quality optometry and vision care available. From your eye appointment to fashion eyeglasses, our vision is for you to have the best vision for years to come.
Our Services
The staff at Vienna Eyecare Center is proud to offer you a variety of high-quality products and professional services designed to meet your vision needs. Our vision services range from basic diagnoses and treatment options to surgical solutions, which include but are not limited to the following:
Vision Correction – The latest in lens design and technology, contact lenses of all types, corneal reshaping (orthokeratology) and LASIK.
Lenses and Frames – Featuring brands like Tom Ford, Silhouette, Prodesign, Bevel, MODO, Kate Spade, Ted Baker, Liz Claiborne, Nine West, Maui Jim, Carrera, and Nike.
Contacts – Soft, gas-permeable, multifocal, color and silicone hydrogels
Dry Eye Treatment – Relief for the gritty, burning sensation caused by breakdown of tear production
Medical Eyecare – Allergies, Glaucoma, Macular Degeneration, Diabetic Eyecare
Specialty Contact Lenses – Lenses for Keratoconus, astigmatism, and bifocal contact lenses
Why Choose Vienna Eyecare Center
Our caring, professional staff is dedicated to providing the very best personal service to each person who walks through the door. That commitment to exceptional service has resulted in the readers of the Community Times newspapers voting Dr. Richard Snively one of the Best Optometrists in the Metro DC area. Dr. Snively's long-standing service and care has allowed Dr. Nicole Ardura to join the practice and expand our reach and our commitment to superior care. If you're looking for an eye doctor in Vienna or the surrounding area, we are certain you'll appreciate our comprehensive vision exams, advanced diagnostic technology and professional treatment. Our goal isn't to just offer outstanding care, we want to educate our patients on their eye health and how best to maintain or improve their vision quality.
Enhance Your Vision
Don't leave your vision to chance when the best eye doctor in Vienna and the surrounding area is only a phone call away. Contact Dr. Snively today for your comprehensive eye examination at Vienna Eyecare Center. Call our offices at (703) 938-7633 or use our convenient online request form for more information.