Eyewear helps patients with refractive errors perform daily tasks easily. Both contact lenses and eyeglasses in Fairfax, VA, need proper care to avoid any infection or prevent eyewear damage. Vienna Eyecare Center gives you 15 care tips for your eyewear: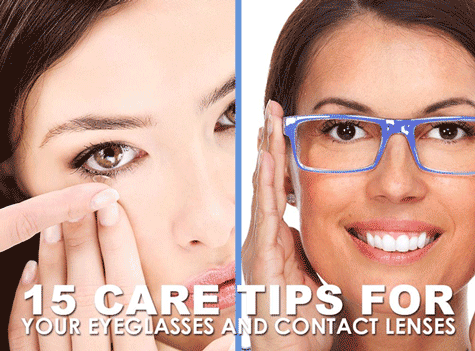 Always wash your hands before handling your contact lens or eyeglasses.
Your fingers are the best tools to clean your lenses. For eyeglasses, rub the lenses with your fingers using warm, soapy water. You should then rinse and pat them dry with a soft cloth. For contacts, you should rub them thoroughly and rinse using a fresh solution.
Do not clean eyeglasses with paper towels, scarfs, or tissues as these may scratch the lens.
Use sturdy storage cases for your eyeglasses and contacts.
Place your glasses frame-side down to avoid scratches on the lens.
Do not leave your eyeglasses lying out in the sun.
Avoid using acetone, soaps, or household cleaners to wash your eyeglasses. These may affect the coating and lens treatment.
Avoid placing glasses on the back of your head. This causes misaligned frames and affects the way you see through the lenses.
Use the cleaning solution prescribed by your doctor for your contact lenses in Tysons Corner, VA.
If your contact lens is stuck inside the storage solution, gently shake the container. Do not try to pull it using your fingers.
Rinse the contact lens case with solution and let it air-dry.
Saline solution and rewetting drops are not ideal disinfectants for contacts.
Do not reuse the old solution in your lens case.
Avoid wearing decorative lenses as these can damage your eyes.
Consult Vienna Eyecare Center if you feel any pain or blurred vision while wearing your eyeglasses or contact lenses.
These tips can help you avoid any eye infections and make your eyewear last longer. Vienna Eyecare Center can conduct a comprehensive eye exam in Reston, VA, to assess the right type of eyewear for you. We can also treat various eye diseases such as glaucoma, macular degeneration, and pink eye.
For more eyewear care tips from the pros, call us today at (703) 688-7003. You can also fill out our contact form to schedule an appointment.