Dry eye syndrome is a common condition where the eyes cannot produce enough tears to keep them lubricated. When this happens, the eyes become dry and irritated. While dry eyes may seem like a minor problem, they can still be uncomfortable and interfere with everyday activities. If you have dry eyes, it's important to understand what it means for your health. Vienna Eyecare Center explains what causes dry eyes, as well as its symptoms and treatments.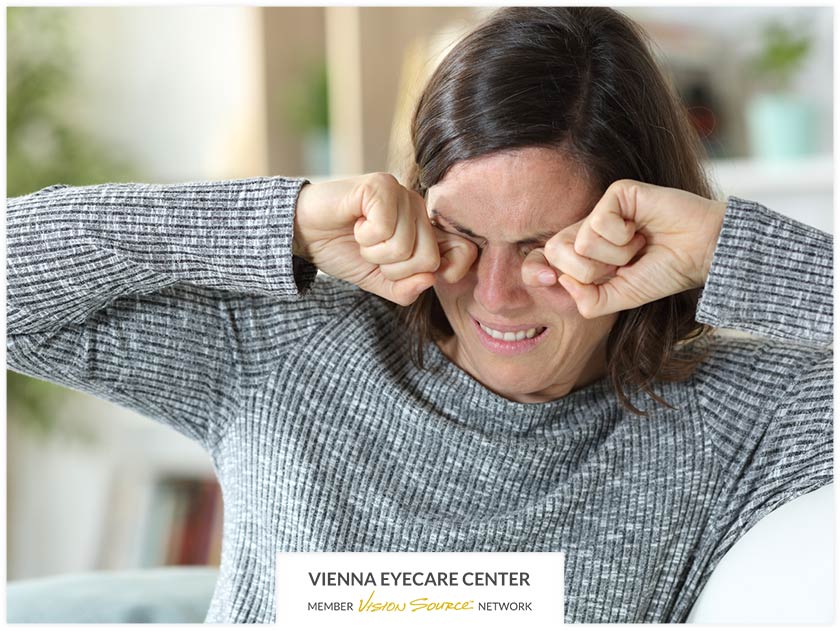 Causes of Dry Eyes
Several factors can cause dry eyes. These include aging, side effects of certain medications, and systemic diseases such as Sjögren's syndrome. In some situations, environmental factors such as wind and dust or wearing contact lenses for a long time can also trigger the condition.
Symptoms of Dry Eyes
Common symptoms of dry eye syndrome include redness, itchiness, burning sensations, and light sensitivity. Blurry vision and a gritty or sandy feeling in the eyes can also occur due to a lack of lubrication. Weeping from the eye may be present due to overstimulated tear production in an attempt to alleviate the irritation caused by dry eyes.
Treatment for Dry Eyes
The main treatment option for dry eyes is using artificial tears or lubricating oils to ease symptoms. These are available over-the-counter, but it's best to consult an optometrist before using any medication. Mild cases may respond well to lifestyle changes, such as avoiding windy and dusty environments, wearing sunglasses outside, turning off fans in your home or office, and regularly cleaning your contact lenses.
Can Dry Eyes Be Permanent?
While dry eye may not be curable in some cases, you can take some steps to prevent it from becoming permanent. Considering the risk factors for permanent dry eyes is an essential first step. Known elements of risk include older age, chronic use of certain medications, and long-term wearing of contact lenses. Individual lifestyles and habits, such as smoking cigarettes or overusing electronic devices (TVs, computers, or phones), also put you at greater risk of developing persistent or even severe symptoms of dry eyes. Although treatments are available to manage its symptoms, it's crucial to understand the risk factors for developing this condition to prevent it from becoming permanent.
If you are experiencing any of the symptoms mentioned above, we recommend scheduling an eye exam. Vienna Eyecare Center is dedicated to helping patients find relief from dry eye syndrome. We also provide other quality services, such as prescribing eyeglasses and contact lenses. If you or someone you know has been struggling with dry eye issues recently, call us at (703) 938-7633, or fill out our contact form. Our experienced optometrists are looking forward to assisting you.