Contact lenses are an effective way to correct vision problems. Unfortunately, there are several widespread misconceptions about contact lenses. Today, your friendly optometrist from Vienna Eyecare Center debunks these myths.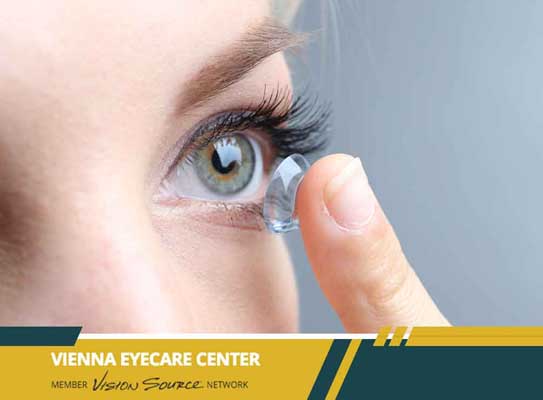 Myth: Contact Lenses Cause Discomfort
While it is true that many people require a brief adjustment period, contact lenses are not uncomfortable. You will quickly get used to wearing them. Many people don't even notice that they are wearing contact lenses at all. There are also several discomfort remedies available for people who experience comfort issues; they just need to work with an eye doctor to pinpoint the underlying cause of the discomfort.
Myth: Contact Lenses Can Cause Eye Problems
The majority of contact lens problems come from a patient's lack of proper hygiene when handling their contact lenses. Wearing contact lenses is very safe as long as you follow the instructions from your eye doctor regarding how to care for them, how long to wear them and how frequently you should replace them. To avoid problems, you should always wash your hands thoroughly before and after handling your contact lenses, and you should follow the proper contact lens cleaning method.
Myth: Contact Lenses Are Not for Everyone
Advances in vision technology have now allowed almost everyone to use contact lenses if they wish. For example, patients with presbyopia can use bifocal contact lenses and patients with astigmatism can use rigid, soft or hybrid contact lenses. Custom contact lenses are also available to correct even the most specific and challenging prescriptions. Your eye doctor will also help you learn how to apply, remove and take care of your contact lenses. You will be adept at handling them in no time.
You can rely on us for all of your eye care needs because we have helped patients since 1984. We treat patients of all ages, and we provide a wide variety of eye care services. Call us at (703) 938-7633 to learn more about our services and products or to make an appointment. We serve Fairfax and nearby areas in VA.